25.08.23 – it's a date. 💘
Northwich, BEAR are finally coming for your evenings!
Your Friday & Saturday nights will never be the same again. Get ready for loaded burgers, street food-inspired small plates, cool craft beers and cocktail twists.
Bookings for Later at BEAR Northwich are NOW OPEN! Wanna get in on the fun? Hit book to make it a date😘
Quote from Ethan, Store Manager at BEAR: "We can't wait to bring Later at BEAR to Northwich. It's gone down a storm in the other BEAR stores so we're excited to hear what everyone here thinks of our new menu, new cocktails and new vibe. Not long to go now – the team and I are busy getting ready to get the party started from Friday 25th August, but tables are available to book now via our website. We hope to see lots of you there!"
Wild Tots and Dockyard Northwich will bring adventure play and competitive socialising to the town.
The Northern Lights Group of companies team is delighted to announce the opening of two brand-new establishments at Barons Quay, Northwich. These exciting venues; Wild Tots and an immersive socialising concept to Northwich will bring significant additions to the scheme, with their unique offerings and vibrant atmospheres.
Wild Tots, will replace the former Sticky Paws and introduce an array of new culinary delights, events, and activities for younger visitors. This family-friendly venue will captivate guests with its innovative menu, which combines classic favourites with contemporary twists, ensuring a delightful dining experience for all.
In addition to the delectable cuisine, Wild Tots will host a series of ongoing events and activities designed to engage and entertain both children and adults alike. From interactive workshops to themed parties and live performances, there will always be something exciting happening at Wild Tots. Families can look forward to creating lasting memories in a warm and welcoming environment, making it the perfect destination for a fun-filled day out.
Dockyard Immersive Northwich will take over the former Barons Quay Social, offering the combination of craft beers, great food and competitive socialising that has made it a hit in central Manchester. Featuring an array of recreational activities including state-of-the-art dart boards, pool tables, and live music performances, Dockyard promises to be a haven for socialising and friendly competition.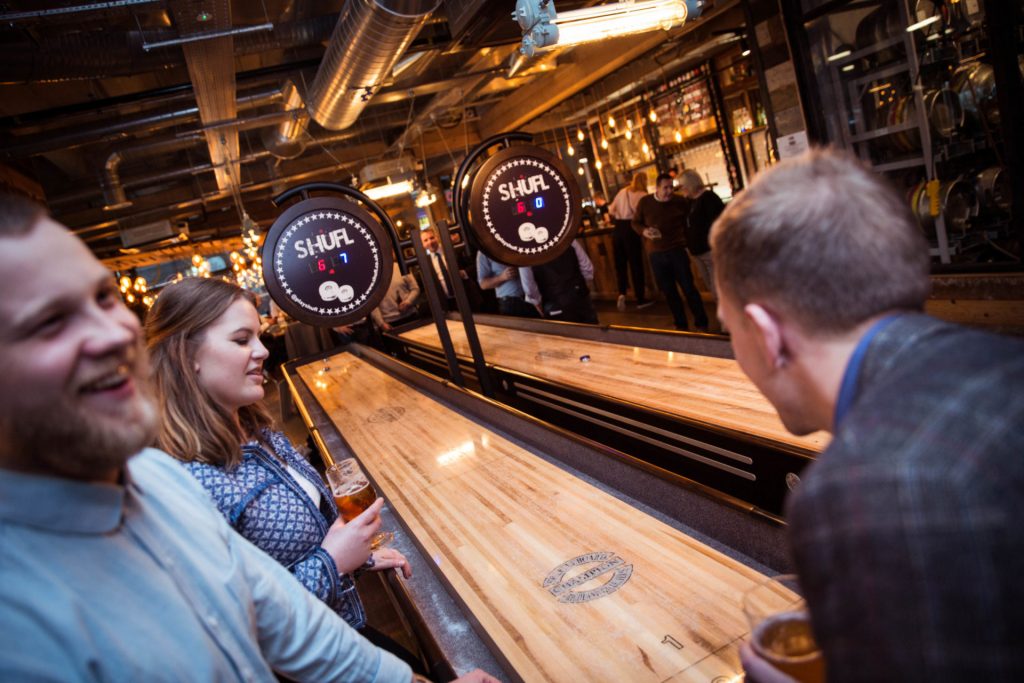 One of the standout features of Dockyard Northwich is its stunning terrace, where visitors can enjoy a game of mini golf while relishing the beautiful surroundings. The terrace offers a breathtaking view of the picturesque waterfront, providing an idyllic setting for a memorable evening with friends or family.
Steve Pilling, with Carl Fraenkli-Rietti, Joe Foster and their teams are the visionaries behind these innovative ventures, commented, "We are thrilled to introduce Wild Tots and Dockyard to the vibrant community of Northwich. These venues are designed to cater to diverse tastes and create lasting memories for our guests. We believe in providing a first-class experience, whether it's through exceptional cuisine, engaging activities, or lively entertainment. We are excited to become an integral part of the Barons Quay community and contribute to its growth and success."
Councillor Nathan Pardoe, Cheshire West and Chester Council's Cabinet Member for Inclusive Economy, Regeneration and Digital Transformation, said: "The Council is committed to the regeneration of Northwich and I am delighted that Wild Tots and Dockyard Northwich will be opening in Barons Quay.
This latest news is great for Northwich, showing continued business confidence in the town and further boosting its economy."